Nederlandse Versie
Deutsche Version
This page
'Arenshorst Church Archive - Kirchenarchiv - Church Archive'
I made it because I did a lot of research in the archives of this church. The church is beautifully situated in a forest near the villages of Stirpe, Oelingen, Bohmte, Herringhausen, Ostercappeln. This area is located about 25 km north-east of Osnabrück in the German state of Lower Saxony.
But it is difficult to search for records from this church on the internet. Yet there are hundreds of deeds/certificates to be found. Links to these deeds can be found
here
. After both my parents passed away (1988-1989) I wondered: "Where does our family actually come from?" I had no family history or genealogical experience. Where do I begin? I knew that my grandfather was born in Oude-Pekela in the Dutch province of Groningen. And I also knew that his father (my great-grandfather) was born in Germany. After a chance meeting I learned that the ancestors of this family came from the Stirpe-Oelingen area. But where Stirpe-Oelingen was located was completely unknown. Inquiries at the German embassy in the Netherlands also yielded nothing. After a few months I found out that the 2 villages (Stirpe and Oelingen) had to be near Osnabrück. One day I drove to Osnabrück (120 km from here) and asked left and right if anyone knew Stirpe-Oelingen. After 10 people I got into a bookstore and the sales staff could tell me that the 2 villages are in a northerly direction (towards Diepholz), near Bohmte. I went there and found the villages.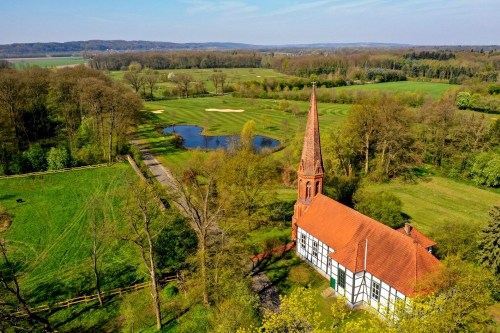 And further? I had no research experience.
I asked around about the surname: Freie. Then someone said to me: I had to go to the archives of the church in Arenshorst and start looking there. The church is beautifully situated in a small forest near Stirpe.
Website Arenshorst.
I spoke to the pastor at the time, Dr. Karl-Heinz Kuhlmann and explained to him what I actually wanted. He invited me to the archive and explained where I should start. After a first orientation I drove home around 6 pm. The search has begun!!!! Later I went more often to Bohmte-Stirpe-Oelingen-Arenshorst-Herringhausen and Ostercappeln.
Today, almost no Freie lives in the area. Most left in the mid-19th century. Some to the Netherlands (my great-grandfather with his parents and siblings), others to America. In addition to my Dutch relatives, I also found several hundred American ones. Many with the names Freye, Frey or Friar. All this can be found in an (almost) complete
Database (in English)
or
Genealogy. (Dutch)
For questions and instructions, please email: joop@joopfreie.nl

On the internet you can of course search in many archives. e.g. via
Familysearch.
This site also contains many Arenshorst archives. However, finding the right one is not always easy.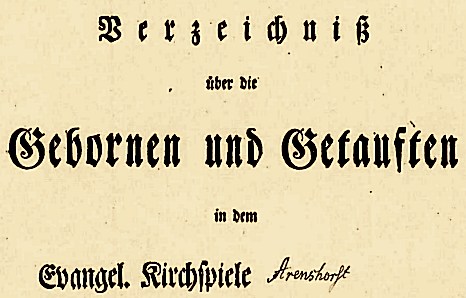 That's why I made a
list of links
to the correct pages.
It does not only concern members of the Freie family, but of
all families
in the region. There are also
NAMELISTS
of
all surnames,
of which the children were born in the region, but were baptized in Arenshorst. Places in the region are e.g.: Bohmte, Ostercappeln, Stirpe, Oelingen, Herringhausen, Hitzhausen, Jöstinghausen, Schwagstorf, Venne.