Hi!! Welcome to the Freie family.
As you might have understood from my starting-page my name is Joop Freie. I'm married, have 2 children and 5 grand-children. We live in a village in the east of Holland; about 20 miles from the German border. I suppose that you are interested in the Freie-family. So am I. Let's start it!!!! After my parents died (in 1988 and 1989) I started searching for my family-roots. I knew that my grand-father was a born Dutchman, but that his father was a born German. First I started to make the Dutch-tree as complete as I could find. Then after a year and writings to the German Embassy in Holland (however, they could not help me) I discovered that my Great-grand-father was born in 1833 in a very small village in Germany, called Stirpe. In those days it belongs to the Kingdom of Hannover. Stirpe was a double village with the small village of Oelingen.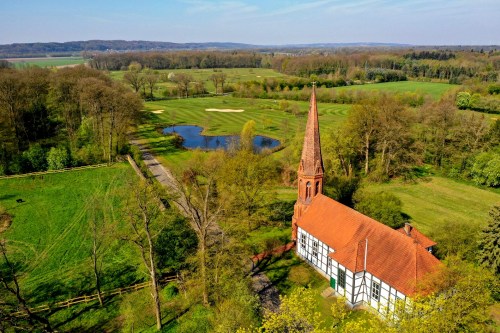 And there in a nice Lutheran church (hidden in the woods and agricultural area) I found, in the archieves, most of my ancestors: my great-grandfather and his family, my great-great-grandfather and his family. And so on back to about 1730. And that is probably the earliest year I can find, because the church and the archieves burned completely down in 1740.
I also found several acts in the archive of the Roman-Catholic St. Lambertus church in Ostercappeln. Although the family were Evangelical-Lutherans many of them were baptisted and married in the church in Ostercappeln. That was because of the financial contribution that had to be paid to the church. And in that time the Roman=Catholic church was still influencial. After 1700-1725 the Lutherans could be baptised and married in their own church. I discovered several certificates of births, marriages and death.
Sometimes the name of the same person was written as: Freie, Freier, Freye or Freyer. So I think that the most are related. The area in where I searched is situated 15/20 miles north-east of the German city of Osnabrück. The centre-city of that area is Bohmte; other small villages are: Stirpe, Oelingen, Herringhausen, Arenshorst, Hitzhausen. This is all about 80 miles from the Dutch-German border. During a visit (many years ago) to Orlando (Florida) I found in a telephonebook a family with my name: FREIE. That made me curious. We contacted; it seemed that their ancestors came from Germany and that many people with the name of Freie, Freye, Freier lived in the USA and Canada. Another member of the Freie-clan (from Iowa) wrote me that their ancestors came from the area of Schale in the district of Westphalia in Germany. The village of Schale is situated about 20 miles west of Stirpe/Oelingen (the area I was searching). Till now I could not find a direct connection between the Freie-family from Stirpe-Oelingen (my tree) and the Freie-family from Schale-area (from where many of the American Freies came from). In both family-trees you see very similar first-names; in German: Heinrich(Henry), Wilhelm(William/Bill), Johann(John), Friedrich(Frederick), Gerhard. And in both trees you see similar professions: many of them were: "Heuermann" (a cottager, a farmerhelper). They lived in a "kotten", a small cottage. Many Freie-members of America I found through the website "Findgrave.com". A website with millions and millions of graves all over the world. With some of the descendants in America I am in contact now. You can find a (almost)
complete database (in Dutch)
of the Freie-family. With familynames as: Freie, Freye, Frey, Friar. And they are all related.

If you have questions/suggestions about the European-Freie-family mail me here.